Scarless Chin Augmentation – Chin implants
Chin augmentation with an implant gives balance to a person's face and is a very low-risk procedure that can greatly improve facial harmony. Chin deficiency is typically noticeable when looking at a person's side profile, as the chin should align with the philtrum (junction between nose and upper lip).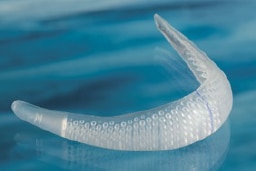 Silicone implants are used and sculpted to fit each patient's individual jawline. The chin implant is inserted under a local anaesthesia by making an incision on the inner aspect of lower lip. In a woman, a chin implant restores facial harmony and accentuates natural beauty. In a man makes a male face more masculine with a stronger jaw.
Patients are given a week of antibiotics as a preventative measure against infection, the stitches dissolve on their own after one week and the implant requires no further management.
Who needs a chin implant?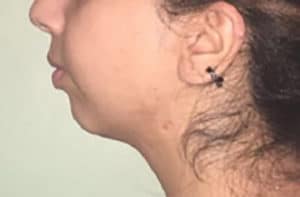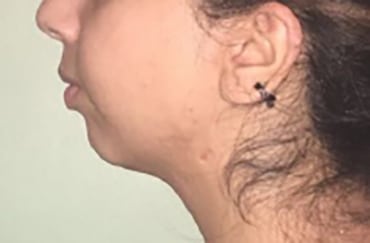 This figure shows the position of a recessed chin which is positioned (>5mm) behind a vertical line drawn through the lips. With chin augmentation the chin is moved forward and the relative distance from the lips to the chin is reduced. Reference points on the face are used to evaluate proportions, however the artistry of chin augmentation also includes taking in to account gender, ethnicity and chin shape into account with chin shaping. With chin augmentation, the shape and size of the implant needs to be tailored to the individual so the result looks natural, complements the face and is long-lasting.
Who would benefit from a chin implant
– The patient with chin recession which impacts their overall facial aesthetics
– Preference for a more well defined jawline
– Presence of submental volume contributing to a double chin appearance
– All patients should be in good health and have realistic expectations about what can be achieved with chin implants surgery.
– Non smoker
Intra-Oral insertion of chin implants through an incision on the inner aspect of the lower lip ensures that this is a scarless procedure. Shaping the implant to soften the appearance of the chin and ensure a natural jawline. The results of the surgery are immediate, although local swelling can make the chin look too large for the first week. The swelling and local bruising take about a week to mostly resolve, and the great majority of patients return to work after that.
All cosmetic surgery has some risks but generally speaking, chin implant surgery is very safe. A silicone chin implant should last a lifetime. With chin surgery, there is a small risk of infection, bleeding, allergy, movement of the implant and of bone absorption under the chin implant. Most patients have minimal numbness that resolves within 1 week of surgery. Relatively few patients may have numbness after chin implant surgery that takes 6-8 weeks to resolve completely.
| | |
| --- | --- |
| | |
| | £4250– All inclusive price |
| | |
| | |
| | |
| | |
| | |
| | |
| | |
| | |